Intel Core i9-12900K
AMD Ryzen Threadripper PRO 5995WX
Apple M1 Ultra
Video editing is a challenging workload for CPUs. Different parts of the process demand other classes of performance that are often difficult to combine. Rendering, for example, the process for actually encoding the video file into its final format, scales almost perfectly with the core count. At least to the highest number of cores available today. Scrubbing performance on the timeline moving through the raw video file benefits much more from raw clock speed after around eight cores. Downscaling the scrubbing preview window even benefits from a modern integrated GPU.
The problem is that high core-count CPUs, ideal for rendering, tend to have lower clock speeds, as they already produce a lot of heat. CPUs with high-clock speeds tend to have relatively limited core counts, again for the same reason of thermal limitations. Many high-end CPUs also don't feature an integrated GPU as high-end CPUs are often paired with a dedicated GPU leaving the iGPU as wasted CPU die space.
Finding the right balance can be tricky. Especially when you have to factor in budget considerations. The best possible option is two computers. One would have high clock speeds, an integrated GPU, and a dedicated GPU to optimize for the actual editing process. The other would be a pure rendering powerhouse with a huge core count. This is the professional approach. With editing happening on workstations and rendering being pushed to a render farm. Of course, all that high-end hardware doesn't come cheap.
Finding the middle ground to balance a budget can be tricky. It's generally worth remembering that while time is money, your time is costly. If you have to optimize for one process, it's best to optimize the editing process. It doesn't really matter if your render finishes in six hours or eight because you can just leave it running unattended overnight. You can't do that with your actual editing work, so try to prioritize optimizing your own workflow.
It's also worth considering your actual needs. If you only render short 1080p clips, you don't need a very expensive workstation. However, if you're dealing with 4K or even 8K footage, you'll probably earn back the thousands you spend on hardware in saved time. Additionally, not all software is available on all operating systems. You may find that some software is better tuned on MacOS than on Windows, which changes the considerations entirely. Unfortunately, even if this is the case for you, Macs have much more limited hardware options, which may prove more of a killer for your workflow.
While you'll have to balance your budget and workflow considerations. We've drawn up our list of the best CPUs for video editing in 2022 to give you a solid starting point.
Recommending CPUs can be tricky because of how often new models release and the changing price points. If you can wait a short time, AMD is scheduled to release its latest Zen 4 CPU line shortly. Which may offer significant performance benefits over the current Intel line-up. A little later, Intel is also scheduled to release its latest CPUs.
Of course, if you need a computer now, you'll have to choose from the current hardware, and at some point, you'll have to stop waiting for the next generation that's just a few months away. The latest high-end CPUs are generally the best bet for high-end performance.
AMD Ryzen Threadripper PRO 5995WX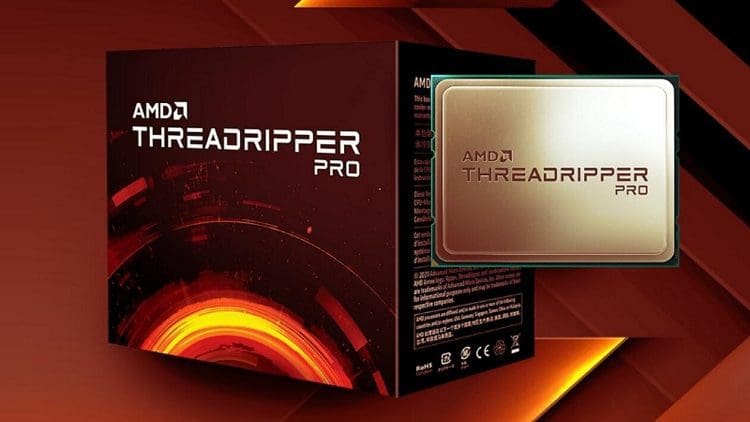 Key Features
8 ECC memory channels
Zen3 cores
Base clock: 2.7GHz
Specifications
64 cores
128 threads
Boost clock: 4.5GHz
The AMD Ryzen Threadripper PRO 5995WX is the ultimate workstation CPU, or it will be if you can find one for sale. With the latest AMD CPU architecture and the highest core counts available, this CPU is a beast at rendering. AMD's flagship 64 core 128 thread Threadripper is unchallenged in the market. While AMD also offers EPYC server CPUs with the exact core count, those are even more expensive. The latest generation uses the excellent Zen3 core architecture and has a base clock of 2.7GHz and a boost clock of 4.5GHz.
It offers 8 memory channels for 3200Mhz DDR4 RAM with ECC support and 128PCIe 4.0 lanes for all the high-speed connectivity you could want. While the official price is around the $7000 mark. Most seem to be being sold for almost $10000, so we recommend you take your time shopping around. The 4.5GHz clock speed should provide decent performance in clock-limited tasks but will be outclassed by standard consumer CPUs optimized for clock speeds.
Pros
4MB/32MB/256MB of L1/L2/L3 cache
27% performance boost over previous flagship Threadripper
128 PCIe 4.0 lanes
Cons
Hard to find
Expensive and requires other expensive hardware
Key Features
Entirely new hybrid architecture
8 performance cores
8 efficiency cores
Specifications
16 Cores, 24 Threads
Base clock: 3.2GHz
Boost clock: 5.2GHz
The Intel Core i9-12900K is the current king of the Intel line-up and offers the best clock speeds on the market. The 12th generation CPU introduces an entirely new hybrid architecture. There are 8 performance cores and 8 efficiency cores. The performance cores are hyperthreaded and designed to run fast. The efficiency cores are single-threaded and designed to be more power-efficient and handle background tasks. They both operate at different core clock speeds, but the peak number is 5.2 GHz for the performance core boost clock. However, that can be pushed further with overclocking and adequate cooling.
The new architecture also brings in new connectivity. There are 16 PCIe Gen 5 lanes and an extra 4 Gen 4 lanes for an M.2 SSD. DDR5 RAM is also supported. For these latest connectivity options, you'll need a new high-end motherboard. You can go for a lower-end motherboard. But this will lock you into DDR4 and PCIe Gen 4. Either way, you will need a new motherboard as this CPU uses a new socket. The integrated graphics chip on the 12th generation CPUs offers excellent performance in workloads it can assist in.
As for performance difference, there is a slight boost for DDR5 in video editing performance. But the connectivity is mostly future-proofing. Additionally, DDR5 is extremely expensive as it's suffering from a hardware shortage on top of being a cutting-edge technology. If you're looking to upgrade shortly to the next generation. In that case, it will be easier than with an AMD CPU, as 13th Gen CPUs will use the same socket allowing for a drop-in upgrade. The relatively low core count will mean it will struggle more in rendering tasks.
Pros
PCIe Gen 5 connectivity
DDR5 support
DDR4 support
Cons
The new socket needs a new motherboard
High-end motherboards require expensive DDR5
The next generation is coming soon
Key Features
Entirely new hybrid architecture
8 performance cores
4 efficiency cores
Specifications
12 Cores, 20 Threads
Base clock: 3.6GHz
Boost clock: 5.0GHz
The Intel Core i7-12700K is similar to the 12900K, having lost just 4 efficiency cores. This also comes with a slight frequency reduction, as the chips are from a slightly lower bin. With overclocking being supported on all Intel K chips, the lack of a few efficiency cores can help reduce the thermal load. This may leave more overclocking headroom, though your exact luck will be down to the classic silicon lottery. As some chips perform better than others.
With the same connectivity as the 12900K, the 12700K has much power at its fingertips. It's worth noting, however, that the connectivity may be difficult to make the most of. PCIe gen5 offers double the bandwidth of gen4. However, there are still relatively few gen5 SSDs. Most motherboards prefer providing the PCIe lanes to the PCIe slot rather than M.2 ports, meaning you'd need an adapter card to get the best performance SSDs.
The loss of four efficiency cores should result in slightly worse render times. The number of performance cores is the same, and that they run at the same clock speed as the 12900K should result in excellent editing performance. This is especially notable because it's currently $200 less than the 12900K, making it an ideal, budget-friendly choice.
Pros
PCIe Gen 5 connectivity
DDR5 support
DDR4 support
Cons
The new socket needs a new motherboard
High-end motherboards require expensive DDR5
The next generation is coming soon
Key Features
Apple Silicon
Apple software
macOS
Specifications
Up to 128GB RAM
20 CPU cores
Clock speed 3.2GHz
The Apple Mac Studio is the only device to offer Apple's top-of-the-line M1 Ultra CPU. Unlike all other CPUs on the market, it doesn't run the x86 instruction set, instead being ARM based. This makes direct stat comparisons difficult, as seen with the clock speed to single-threaded performance. This design choice also means that some software won't be compatible. However, most video editing software that previously ran on macOS has been updated.
The M1 Ultra offers excellent single-threaded performance and high-end multi-threaded performance. Though not even close to being on par with the Threadripper 5995WX as you might expect, given the vast core count disparity. Many design choices are made to make the M1 Ultra excellent at workstation tasks.
These include several hardware video encoders and decoders, which will help in video editing workloads. This is undoubtedly the best choice if you prefer macOS. However, better Windows systems can be designed, especially if you're open to having a pair of machines. At this point, you may consider the Mac Studio as the editing box.
Pros
Clock speed is misleading in terms of single-threaded performance
Excellent hardware encoders and decoders
macOS
Cons
No support for some software
Expensive
No post-purchase upgradability
That was our roundup of the best CPUs for video editing in 2022. Have you recently bought a CPU for video editing? What sold you on it, and what has your experience been with it so far? Let us know down below.