The Steam Deck is a handheld gaming computer released in early 2022 and has continued to grow in popularity. The device uses Valve's Linux distribution SteamOS, incorporating the namesake Steam storefront. SteamOS includes Valve's Proton compatibility layer, allowing users to run Windows applications and games. In addition to handheld use, the Steam Deck can be connected to a TV or monitor through a docking station and be used like a desktop computer or home video game console.
How to Turn Steam Deck Into Desktop PC
One of the best things about the Steam Deck is that you don't need to use Desktop Mode if you don't want to. But there's quite a bit of excitement in using your Steam Deck as an all-in-one device for everything from gaming to getting work done and everything in between.
What You Need to Turn Steam Deck Into Desktop PC
The Steam Deck, in its essence, is already a small portable computer running a Linux-based operating system. But you'll need a few additional steps and peripherals to make it function more like a traditional desktop PC. We've rounded up some of our favorite accessories if you want to turn Steam Deck into a desktop PC.
Unofficial Steam Deck Docking Station
Official Steam Deck Dock from Valve
TV or Computer Monitor
HDMI 2.0 Cable
45W USB-C Power Supply
Either a wired or Bluetooth keyboard
Either a wired or Bluetooth mouse
Getting Everything Set Up With Your Steam Deck
The first step in transforming your Steam Deck into a desktop PC is to connect it to a dock or a USB-C hub. Ideally, This hub should have multiple HDMI or DisplayPort output ports, USB connections, and possibly an Ethernet port for wired internet connectivity.
With the docking station or USB-C hub in place, you can now connect your Steam Deck to a monitor. This is done through the HDMI or DisplayPort provided by your dock or hub. The monitor is your visual interface, much like a regular desktop PC.
The next step involves connecting a mouse and a keyboard to your setup. These peripherals can be attached to the USB ports on your dock or hub and can be wired or wireless. A mouse and keyboard are essential for the full desktop experience, as they offer more precise and diverse control compared to the built-in controls of the Steam Deck.
Consider using a wired Ethernet connection if your dock or hub supports it for optimal internet connectivity. A wired connection typically offers greater speed and stability than Wi-Fi, which is particularly beneficial for tasks such as video streaming or online gaming.
Switch Over to Desktop Mode
With your peripherals connected, you can switch your Steam Deck to Desktop Mode. When you boot up the Steam Deck for the first time, you'll be greeted with the SteamOS interface. This resembles Steam on Windows or macOS in "Big Picture Mode." It offers an easy-to-navigate interface to your library, along with accessing the Steam store.
However, Valve also made getting to Desktop Mode on Steam Deck easy. There are two slightly-different methods you can take to do so.
Press the Steam button on your Steam Deck.
Scroll down and select Power.
From the Power Menu, highlight and select Switch to Desktop.
Wait until your Steam Deck switches to Desktop Mode.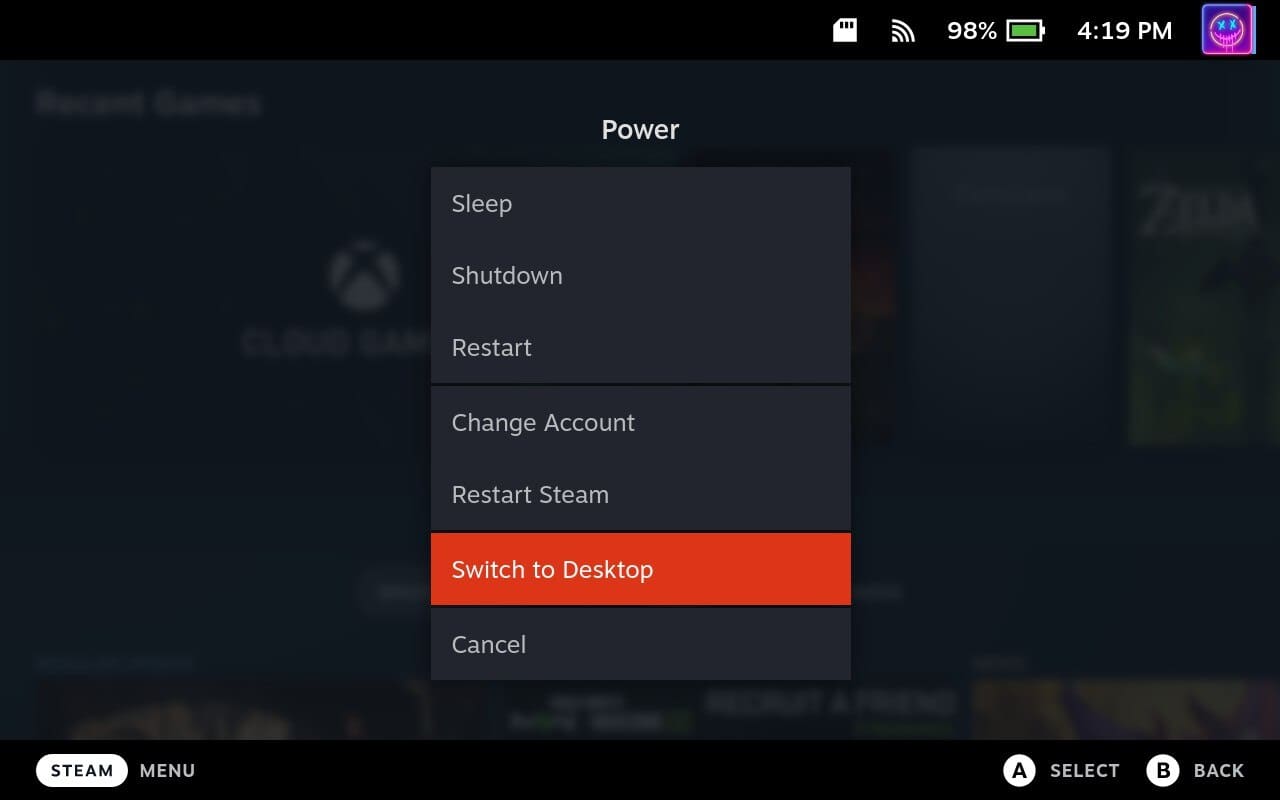 The other method to get to Desktop Mode on Steam Deck is as follows:
Turn on your Steam Deck.
Long-press the Power Button for a few moments.
When the Power menu appears, scroll down and select Desktop Mode.
Wait until your Steam Deck switches to Desktop Mode.
What Can You Do With Steam Deck as a Desktop PC?
In Desktop Mode, you can access and use the full Steam client, allowing you to buy, download, and play any game in your Steam library. This mode also supports other game distribution platforms, such as Epic Games Store or GOG, enabling you to play games purchased from these platforms. You can also install and use game mods, which makes the gaming experience even more customizable and varied.
Beyond gaming, Desktop Mode unlocks the full capability of Steam Deck's underlying Linux-based operating system. This means you can install and use a wide variety of Linux-compatible software. For instance, you can use productivity apps like LibreOffice or GIMP, communication tools like Slack or Discord, and media apps like VLC or Spotify. This makes the Steam Deck a versatile tool for both work and entertainment.
Desktop Mode also allows you to browse the internet with a full-featured web browser, stream videos, read news, shop online, or do virtually anything else you would do on a desktop PC. You can also access and manage your emails and use cloud-based services like Google Docs or Microsoft Office 365.
The Desktop Mode transforms the Steam Deck from a gaming device into a full-featured portable computer capable of handling various tasks. Whether you're looking to play games, get work done, or browse the internet, Steam Deck's Desktop Mode offers the flexibility and functionality to do it all.
Remember, while the Steam Deck can function like a desktop PC, its hardware won't be as powerful as a high-end desktop computer, particularly for resource-intensive tasks like high-end gaming or video editing. However, for general computing tasks, it should work quite well.
Installing Linux Apps to Use With Steam Deck
If you want to use the Steam Deck in Desktop Mode, you should know some differences in the app experience. For one, Linux uses various formats, such as .deb files for Debian-based systems or .rpm for Red Hat-based systems. Additionally, some applications are distributed as source code, requiring you to compile the application yourself, though this is less common for everyday users.
At their core, they are still applications; you won't find yourself running .exe or .msi files if you are coming from Windows or .dmg files on macOS. On the bright side, there is no shortage of great Linux apps, and many of your favorite Windows or macOS apps are already available.
Out of the box, there's a package manager named "Discover" that is accessible when you switch over to Desktop Mode. From here, you can search for a specific app or select one of the categories in the sidebar if you're looking for something cool.
Suggested Apps
If you're looking for some suggestions on what to download, we've compiled a list of a few of our favorites:
VLC – A free and open-source cross-platform multimedia player and framework that plays most multimedia files as well as DVDs, Audio CDs, VCDs, and various streaming protocols.
GIMP (GNU Image Manipulation Program) – It has many capabilities. It can be used as a simple paint program, an expert quality photo retouching program, an online batch processing system, a mass production image renderer, an image format converter, etc.
Warpinator – Warpinator allows you to easily connect multiple computers on a local area network and share files quickly and securely.
Obsidian – A powerful knowledge base that works on top of a local folder of plain text Markdown files.
Remmina – Remmina is a remote-desktop client written in GTK to use other desktops remotely from a tiny screen or large monitor. It also supports multiple network protocols in an integrated and consistent user interface.
These are quickly and easily accessible from the Discover app within Desktop Mode on the Steam Deck. Just locate the apps you want, install them, then start using your Steam Deck just like you would any other computer or laptop.